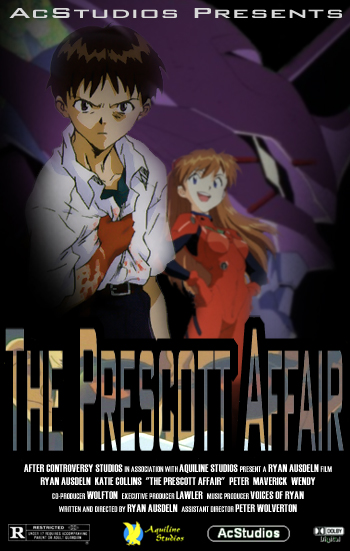 The Prescott Affair
"Well what's the Amy way?" "The fun way."
---
Completed: 11/27/04
Release date: 12/1/04
Anime used: Neon Genesis Evangelion
Music used: see below
Spoilers: none that I can think of
Download:

---
The Prescott Affair
is an original trailer project conceived, edited, and directed by Voices of Ryan, of After Controversy Studios (AcStudios for short), in which both of us were involved.
The Plot
Ryan Prescott was an ordinary teenager with a good life, a good family, and even a great girl... until a horrible accident claimed his mother's life and caused his father to grow cold and distant.
Not until two years later does Ryan finally discover the truth about his mother's death... and when he does, he's out for revenge, no matter whom he has to take down.
But with his target wielding so much power, Ryan's going to need a little help from his friends.
And with friends like his, revenge will be very sweet indeed.
Not to mention a whole lot of fun.
The Cast

Shinji (Ryan Prescott)
---
Jacob Lawler (Voices of Ryan)
Asuka (Amy)
---
Katie Collins (Cyanna)
Gendo (Ryan's father)
---
Jacob Lawler (Voices of Ryan)
Rei
---
Wendy (Songbird21)
News anchorman
---
Peter (Scintilla)
Computer
---
Jacob Lawler (Voices of Ryan)
Fuyutsuki
---
Maverick (Maverick-Rubik)
Additional voices
---
Maverick-Rubik
Songbird21
Scintilla
Cyanna
Neko
Kalium
MarzGurl
The Staff
Written, directed, and produced by
---
Ryan Ausdeln (Voices of Ryan)
Assistant director and co-producer
---
Peter Wolverton (Scintilla)
Audio mixing
---
Voices of Ryan
Audio cleanup and processing
---
Scintilla
Animation by
---
GAINAX
Production I.G.
Filtering and encoding (MPEG-1 version)
---
Voices of Ryan
Filtering and encoding (XviD AVI version)
---
Scintilla
Beta testers
---
Otohiko
Scintilla
Maverick-Rubik
Songbird21
MarzGurl
Poster design
---
Cyanna
Special thanks to
---
Pwolf
GreenJinjo
LoneWolf
The Soundtrack
Taking Back Sunday - The Blue Channel
The Bangles - Hazy Shade of Winter
Light and Day - The Polyphonic Spree
Feel (Onegai Twins OST) - Fuan na Kimochi
Feel (Onegai Twins OST) - Wasurerarenai
Feel (Onegai Twins OST) - Asa
Tomoyasu Hotei (Kill Bill OST) - Battle Without Honor Or Humanity
Further information can be found at this video's information page on AMVs.org.
---
Back
to the collaborative videos